Labels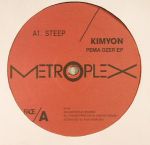 Cat: M 044. Rel: 03 Oct 16
Techno
Steep (6:06)

Steep (Kimyon Wknd Drum remix) (6:05)
$13.36
SAVE 33%
in stock
$8.95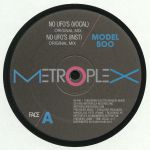 Cat: M 046. Rel: 04 Dec 17
Techno
No UFO's (vocal) (4:13)

No UFO's (instrumental) (7:05)

No UFO's (vocal - Moodymann remix) (8:04)

No UFO's (vocal - Luciano remix) (14:35)
Review: First dropped in 1985, over thirty years ago, "No UFO's" paved the way for Detroit to unleash the beast we know refer to as 'techno', to the rest of the planet. Merging everything the Juan Atkins had heard through his adolescent years, from electro to funk and krautrock, his first outing as Model 500 will never grow old. Thus new reissue drops both the vocal and the instrumental, which are equally powerful on the floor. The bonus points come from the remixes: Detroit's own Moodymann makes his debut for Metroplex with a wonky, broken tech-house stormer charged by the original's bass, and sexified with the help of some blazing new sub-vocals from the master of funk; Luciano makes a surprise addition to the pack, dropping an ultra-sleek, minimalistic house mix that will lead this record being in the hands of thousands of different DJs across the globe. Big-dawg business.
…

Read more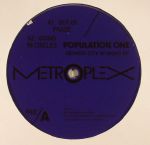 Cat: M 045. Rel: 14 Nov 16
Techno
Out Of Phase (5:09)

Going In Circles (5:48)

Down The Lodge (5:15)

Detroit City At Night (3:17)
Review: Terrence Dixon first donned the Population One alias for Metroplex two decades ago, and has been a semi-regular contributor to Juan Aktkins' label ever since. Detroit City At Night finds him in fine form, delivering tracks that blend traditional Motor City techno tropes - hissing hi-hats, spacey electronics, and futurist intent - with warmer keys and organ stabs. Naturally, it feels like a classic Metroplex release, with cuts such as "Going In Circles" - built around spacey melody patterns and swirling, sci-fi textures - and "Down The Lodge" ticking all the right boxes. Best of all, though, is closer "Detroit City At Night", an atmospheric combination of gritty Motor City field recordings and dark, Italo-influenced techno grooves.
…

Read more