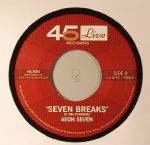 Cat: 45L 7003. Rel: 26 Jun 17
Seven Breaks (3:44)

Seven Breaks (instrumental) (3:42)

Cuts (0:04)
Review: Long-time turntablist, erstwhile Christine band member and recent 45 Live crew member, North French Aeon Seven delivers his first ever 45. A loose-swinging, wah wah-rattling, organ-blasting feel good b-boy bomb with all the cheeky chops and cuts you'd expect from a deck wizard of his calibre, "Seven Breaks" is primed for party and battling devastation. Complete with a creative DJ acapella scratch cut, this 45 is alive.
…

Read more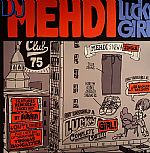 Cat: BEC 5772084/ED 015. Rel: 19 Mar 07
Lucky Girl (feat Fafi)

Lucky Boy (Outlines remix)

Signature (Thomas Bangalter edit)

Lucky Boy (Surkin remix)
Review: DJ Mehdi is back with a second single from his album "Lucky Boy". "Lucky Girl", on Because music, features Fafi on the mic.
…

Read more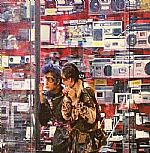 Cat: AMM 008. Rel: 19 Jun 06
London Tip

Rhythm Fake

Robot Sun

Occulture Disco

Step To Shock

In The Light

Boarding To Rio