Labels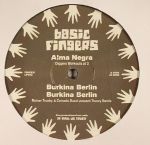 Cat: FINGERSLP 003. Rel: 14 Nov 16
Deep House
Burkina Berlin (7:10)

Burkina Berlin (Rainer Trueby & Corrado Bucci present Truccy remix) (6:18)

Agadez (7:26)
Review: Throughout the course of their Digger's Workout series, Swiss combo Alma Negra has proved adept at blurring the boundaries between re-edits, remixes, and original productions. The same could be said about the sun-kissed global fusion of "Burkina Berlin", where wild vocal chants and dense percussion samples are craftily combined with heady piano motifs and a rock solid deep house beat. Rainer Truby and Corrado Bucci provide a deeper, hazier and subtly soulful interpretation that plays down the sampled beats in favour of far more tactile hits, before the Basel-based trio closes proceedings with "Algadez", a rare Persian treat built around exotic fiddle lines, humid flutes and their usual chunky percussion.
…

Read more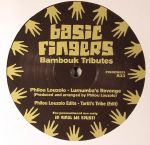 Cat: FINGERS 029. Rel: 11 Sep 17
International
Lumumba's Revenge (7:09)

Tartit's Tribe (edit) (6:35)

Fadimata's Diabba (Tribute mix - edit) (6:52)
Review: Afrocentrist Philou makes his debut on Basic Fingers with a trio of deep-seeded treats comprising one original and two game-changing edits. This homage to the Senegal/Mali mountain region softly ignites with the cosmic yearns and mild acid grounding of "Lumumba's Revenge". It sets the scene for two takes on regional traditions; "Tartit's Tribe" adds a driving afrobeat and hypnotic swing to an ancient Tombouctou desert song while "Fadimata's Dibabba" is a dense and inebriating weave of Senegalese instruments and chants.
…

Read more