Labels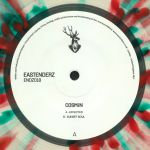 Cat: ENDZ 018. Rel: 27 Nov 17
Minimal/Tech House
Effected (10:09)

Sunset Soul (10:35)
Review: Given his impressive track record and rising star status, it was probably only a matter of time before Cosmin Nastasa AKA Cosmjn popped up on East Enderz. This time round, the Romanian producer seems to be in a particularly positive mood. Certainly, A-side "Effected" - a jaunty affair built around a bold, attention-grabbing bassline, punchy drums and drowsy, sun-kissed synthesizer chords - is amongst the cheeriest tracks he's released to date. On the flip, "Sunset Soul" is a little closer to his trademark tech-house fare, with spacey pads and fizzing electronics wrapping themselves around a pleasingly rubbery groove.
…

Read more
ENDZ 016
(clear & blue splatter vinyl 12")
Cat: ENDZ 016. Rel: 21 Aug 17
Minimal/Tech House
Space Cadet (8:49)

Halfjack (8:16)
Review: Aside from a few, sporadic appearances here and there, East End Dubz has pretty much been loyal to his own imprint, through which he has solidified a house sound of his own. Number 16 in the series offers a predictably classy affair in the form of 2 club trax that are bound to sync with pretty much anything you throw at them. "Space Cadet" is a direct, no bullshit house missile made for keeping the moods and tempos at a steady pace, while "Halfjack" is more on the playful side, shooting out tidy little melodic twists amid its rawer and more off-kilter percussion.
…

Read more