Labels
Cat: DDD 021. Rel: 04 Sep 17
Deep Dubstep
F Class (5:19)

Alive (4:40)

Tsunami (4:11)

Out There (4:37)
Cat: DDD 016. Rel: 24 Jul 17
Deep Dubstep
Sakura (4:09)

Eclipse (5:32)

Point Blank (4:39)

Regret (4:39)
Review: Truth's triple-D rollcall develops again with the unique sounds of Sepia. Since emerging on Gourmet, he's pushed all the right deep buttons on White Peach and Infernal. Here we find him on some of his darkest and most captivating touches so far as he builds on the Deep Dark & Dangerous signature; on the weightier side "Sakura" has a richter-rocking grumble of a bassline and "Point Blank" pings and ricochets with a cosmic two-step while on the more introspective side "Eclipse" flutters and twinkles over a sludgy subby bass and "Regret" yearns and mourns with subtle chords and lashings of dubspace and lingering percussion. Quintessential DDD.
…

Read more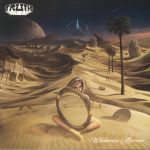 Cat: DDDLP 001. Rel: 11 Sep 17
Dirty Dubstep/Trap/Grime
Monster (feat Strikez) (3:16)

Lyrical Murderer (feat D Double E) (3:03)

Wilderness Of Mirrors (3:19)

The Moon (3:02)

Soldier (feat T Man) (3:45)

Inside Your Thoughts (feat Lelijvld) (3:07)
Review: New Zealand sub-loaders Truth unleash their fourth album Wilderness Of Mirrors to wax on their own DDD imprint. Taking some of the album's many highlights and reframing them into a sizzling six pack of sonic contrast and grimy gully, it's beef from the off as Strikez gets smoky on "Monster" and "D Double E" flexes bear murderation over an industrial strength before the title track takes us deeper into the abyss. Flip for the swaggering grunter "The Moon" (one of Truth's heaviest bassline cuts to date), T Man's militant preaches on "Soldier" and the lush velvet Portisheadian soul of "Inside Your Thoughts". Welcome to the wilderness...
…

Read more