Labels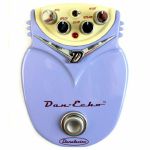 Cat: 595338 Rel: 15 Jun 15
B-STOCK: Box opened, product in perfect working order
Notes: ***B-STOCK: Box opened, product in perfect working order***


Cool vintage tape effects.

The warmth of an all-tube echo with the convenience of a pedal. Hi-Cut control cuts high frequencies on repeats - perfectly simulating the tone of a 60's era tape echo. The warmest sounding echo/delay around.

Studio quiet. Play it and you'll buy it!
…

Read more