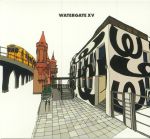 VARIOUS
Cat: WG 023. Rel: 20 Nov 17
Henrik Schwarz - "Kantine"

Jimi Jules - "Every Detail"

Matthias Meyer & Ryan Davis - "Hope"

Gorje Hewek & Izhevski - "Arkkaim"

Floyd Lavine & Gumz - "Black Note"

Ellen Allien - "Lost In Paradise"

Alex Niggemann - "Ava"

Marco Resmann - "Beehive"

Tiefschwarz - "Control"

Catz 'N Dogz - "Mr Invoice"

Steve Bug - "Silver Ants"

Osunlade - "Nyepi"

Butch - "Nowhere"

Solomun - "Amanacer"

Rodriguez Jr - "1PM Sunrise"

Lee Jones - "Sacbe"

Oliver Koletzki - "The Inner Me"

Adana Twins - "Zuul"

Anja Schneider - "Vibration"

Mathias Kaden - "7th Dimension"

La Fleur - "Femton"

Hyenah - "Elinga"

Cinthie - "Hatschi Hatschi"

Sebo K - "Mirage"

Kollektiv Turmstrasse - "Kisses In The Dark"
Review: Three cheers for Berlin club institution Watergate, which this month celebrates 15 years of riverside raving in the heart of techno's liveliest city. To celebrate, they've gathered together two CDs worth of previously unreleased tracks from some of their nearest and dearest. Impressive contributions from resident DJs Matthias Meyer, Tiefschwarz, La Fleur, Cinthie and Jimi Jules are joined by equally inspired workouts from producers closely affiliated with the club, including Ellen Allien, Steve Bug, Hyenah (who has delivered some of the best music on Watergate's label in recent times) and Kollektiv Turmstrasse. While naturally rooted in techno, there's plenty of variety to be found throughout (think mutations of tech-house, techno, electronica and ambient), making it a fitting celebration of one of Europe's most iconic nighttime venues.
…

Read more