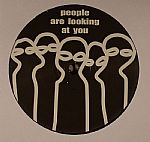 Cat: PALAY 02. Rel: 18 Nov 13
Deep House
A Month Of Rain

Made Visible
Review: Returning to the fray for the second installment in its deep house venture, the People Are Looking At You imprint sees a confident expansion on the sultry tones laid out on the first slab of wax, featuring a sturdy pair of cuts from London production duo Jonno & Tommo. Taking charge with the A side, "A Month Of Rain" is a multi-faceted mover loaded with suspense and surprise. In its opening strains the sharp beat ticks out across a sparse, dub-informed soundscape that slowly fills out via a captivating chord refrain, haunting and seductive in equal measure. Without giving too much away ahead of experiencing the track for yourself, be prepared for a dazzling break in the clouds that lifts the summit of the track into an entirely different headspace. On a different kind of house agenda, "Made Visible" creeps into action on a slow and slamming bed of rough drums and immersive bass notes, subtle flashes of percussion creating kinks in the groove and the choice vocal samples injecting warmth and soul into the otherworldly atmosphere. When the climactic chords come in to signal the second half of the track, it brings the ranging elements to the surface for a truly soul-cleansing experience.
Proving that house tracks need not stagnate in the same mood from start to finish, PALAY02 is a strong next step for a label committed to bringing something new to the table.

…

Read more
FORTHCOMING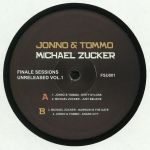 Cat: FSU 001. Rel: 11 Dec 17
Deep House
Jonno & Tommo - "Dirty Nylons"

Michael Zucker - "Just Believe"

Michael Zucker - "Narrow Is The Gate"

Jonno & Tommo - "Shark City"
Review: Finale Sessions launch a new series entitled Unreleased, and their kicking things off with label boss Michael Zucker sparring with Jonno & Tommo (more commonly found lurking around labels like Ornate). As you would expect from Finale, it's a deep house masterclass, with Jonno & Tommo leading the proceedings with the deft piano licks and hard grooving sub bass of "Dirty Nylons" before Zucker steps in with the pattering rhythms and swooning pads of "Just Believe". On the flip Zucker embraces a gentle strain of electro for "Narrow Is The Gate" before Jonno & Tommo round the record off with the immersive tones of "Shark City".
…

Read more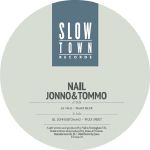 Split
(140 gram vinyl 12")
Cat: STOWN 015. Rel: 10 Oct 16
Deep House
Nail - "Shake Back" (7:58)

Jonno & Tommo - "Wolf Spirit" (3:14)
Review: Spain's Slow Town rarely fails to deliver the goods. Split, so called because it contains tracks from numerous artists, more than lives up to the label's rising reputation. It probably helps that the A-side comes from former Bent man and longtime East Midlands deep house stalwart Nail. His "Shake Back" explores similar sonic territory to Pepe Bradock's "Deep Burnt", whilst retaining the chunky, bass-heavy bottom-end recognizable from his releases for Classic, Shabby Doll and Robsoul Recordings. On the flip, there's an equally assured cut from London stalwarts Jonno & Tommo. "Wolf Spirit" is an altogether more tech-tinged affair, built around a restless electronic bassline, hypnotic percussion and woozy, late night chords.
…

Read more