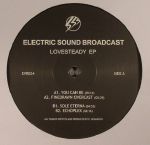 Cat: EVR 024. Rel: 20 Mar 17
Deep House
You Can Be (5:09)

Finedrawn Overcast (5:30)

Sole Eterna (4:51)

Echoplex (6:16)
Review: Athens based label Echovolt return with Vancouver's Electric Sound Broadcast aka Elka who delivers some lush/lo-fi soul- techno as he did for that fine EP for Pacific Rhythm last year. It's back to the good all days with Juno 106 basslines, the vintage hiss of old drum computers and FM pads on the rather nice "You Can Be" while "Finedrawn Overcast" does it's best impression of early Larry Heard circa '86. On the flip there's more gold on the deep acid journey "Echoplex". Will certainly appeal to retroverts into Acido/SUED or likewise the Meme house of Lobster Theremin.
…

Read more
Cat: ROTP 003. Rel: 10 Oct 16
Deep House
Slim Media Player - "Dappled Love" (8:02)

Slim Media Player - "Pink Hues, Bad News" (6:00)

Electric Sound Broadcast - "WaveRunner" (4:50)

Khotin - "Nimbus" (Tomi Pad mix) (6:30)
Review: Given the popularity of volumes one and two in the superb Rhythms Of The Pacific series, you can bet your bottom dollar that this third installment will fly off the shelves. Happily, the standard remains high throughout, with debutant Slim Media Player particularly impressing. The artist with the superbly-current name offers up a pair of fine tracks; the low-slung jazz bass, new age pads and bumpin' beats of "Dappled Love", and the decidedly horizontal, loved-up shuffle of "Pink Hues, Bad News". On the flip, Electric Sound Broadcast melds yearning, sun-kissed electronics to freshly beaked house breaks on the delightful "WaveRunner", before 1080p regular Khotin delivers a dash of dreamy, acid-flecked brilliance in the shape of EP standout "Nimbus (Tomi's Pad Mix)".
…

Read more