Artists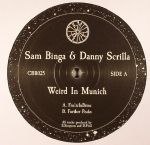 Cat: CBR 025. Rel: 21 Aug 17
Drum And Bass
Frolic In Brine (4:25)

Further Peaks (4:19)
Review: Absolute technoid grit from Sam and Danny as they soundtrack a hairy weekend of studio experimentation in Munich. Curveballs to the bitter distorted end, there's a fluidity and not-sit-still-ability running throughout the two as the pair defenestrate convention and get hands on. The delightfully titled "Frolic In Brine" is a swampy piece of tribal acid-tinged rollage with a toxic bassline emerging midway while "Further Peaks" is a drone procession that refuses to quit as it doubles and folds in on itself with decaying, mesmerising effect. Not what you'd expect from either party, which makes it all the more exciting. Pass the brine.
…

Read more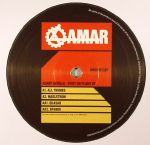 Cat: AMAR 013. Rel: 11 Sep 17
Deep Dubstep
All Thumbs (4:23)

Maelstrom (4:54)

Quasar (4:03)

BFG900 (3:30)
Review: There's no one iller than Danny Scrilla... Fresh from his debut album and Sam Binga collab on Cosmic Bridge, the German spell-binder makes his debut on Amit's AMAR with four bendy beat fusions. "All Thumbs" is the sound of melting music boxes flickering and burning in 808 flames, "Maelstrom" takes us much deeper into Danny's tubular bass universe and "Quasar" folds up a piece of jazz into tiny pieces before throwing it up into the air and letting it unfold like some type of dreamy parachute. Finally we climax with the swaggering data-drenched swagger jam "BFG900", a freaky world where Roald Dahl's much loved giant and the Terminator make great bedfellows.
…

Read more